Moving Column Bridge Type Multi-face Machining Centers
Moving Column Bridge Type Multi-face Machining Center, the MCP series, was designed for machining of large work piece as required by aerospace, automotive, and marine industries. The MCP series is also employed by LCD and semiconductor manufacturers. It features an abundant range of motion and a very low profile that makes loading and unloading of work piece very convenient. Key components are either made in-house or sourced from Europe and Japan. With the automatic multi-face machining function part of the standard package, the machining capabilities of the MCP series easily exceeds those of similar machines available on the market, thus ensuring not only your current but also your future needs and demands are met.
High-grade moving column structure
■ Moving column type machines use 40 % less space than fixed column type machines.
■ The tool magazine is attached to the column which eliminates the need to move the X-axis for tool changes and substantially improves tool exchange efficiency.
■ The X-axis features dual linear scales which in combination with the Simultaneous Control Technology effectively prevents misalignment of the moving columns and ensures optimal dynamic accuracy.
Strong headstock support structure
The headstock sits in a U-shaped saddle with reinforced front structures, fully surrounding it. Four linear guide ways and ten sliding blocks further increase the rigidity of the structure. The design effectively reduces distortion and offers excellent accuracy, even when the headstock is fully extended.
The rigidity of the head structure
has been increased by40% ⇧

Standard Machine
■ Load : 5,000N
■ Max. displacement 0.1269 mm

AWEA MCP Series Machines
■ Load : 5,000N
■ Max. displacement 0.0744 mm
Flexible multi-face machining capability
■ An automatic head changer and a two positions ATC system are standardly equipped for improved multi-face machining.
■ New generation of in-house made attachment heads is available now.
Convenient operation
Big, open machining area with low side structures makes the loading and unloading of large work piece more convenient and safe.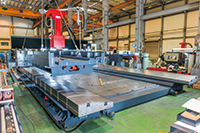 Top