5-Axis Machining Center
 
With advanced technology, AWEA 5-axis machining center offers high speed, high accuracy, easy operation and many other superior capabilities.
5-axis machining centers provide the best cost-performance than any other same class machines in the field.
Complicated parts can be done in a single setup that especially suits automobile, aerospace, medical and other industries that demand high accuracy.
Guided by Finite Element Analysis and utilizing high tension Meehanite casting structure allow one-piece bed, column and saddle to reach optimal design. Mechanical strength of machine can sustain extremely heavy cutting while maintaining long-term excellent accuracy.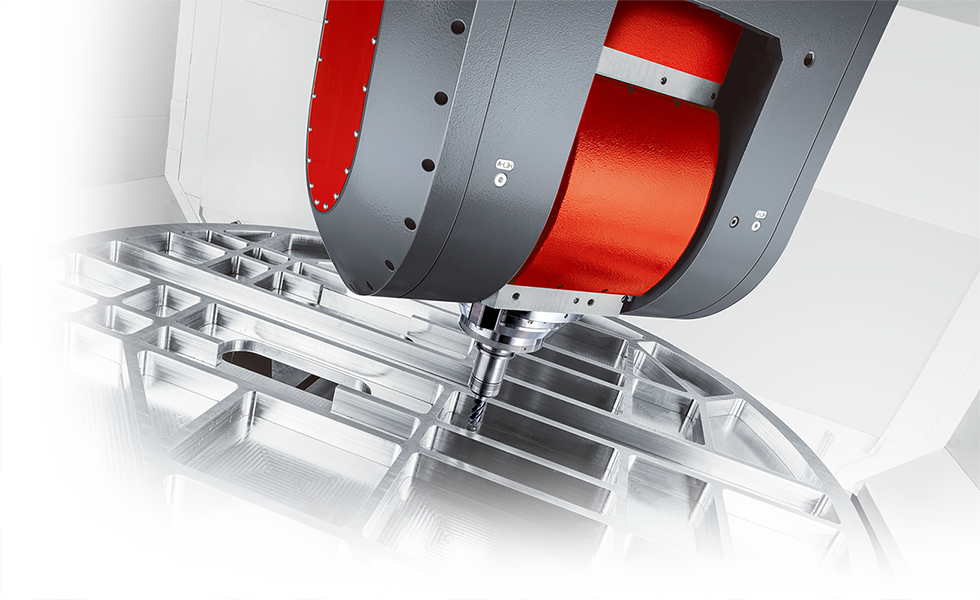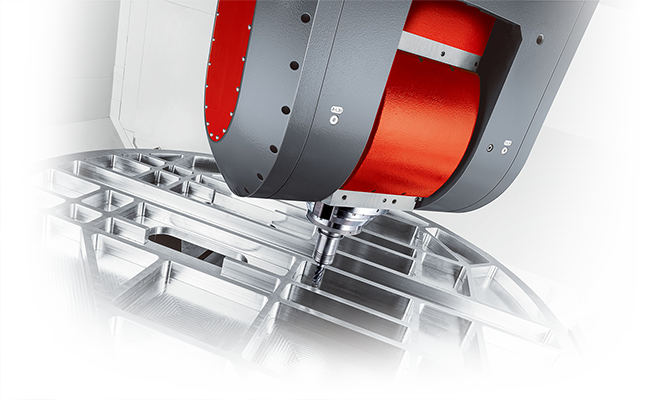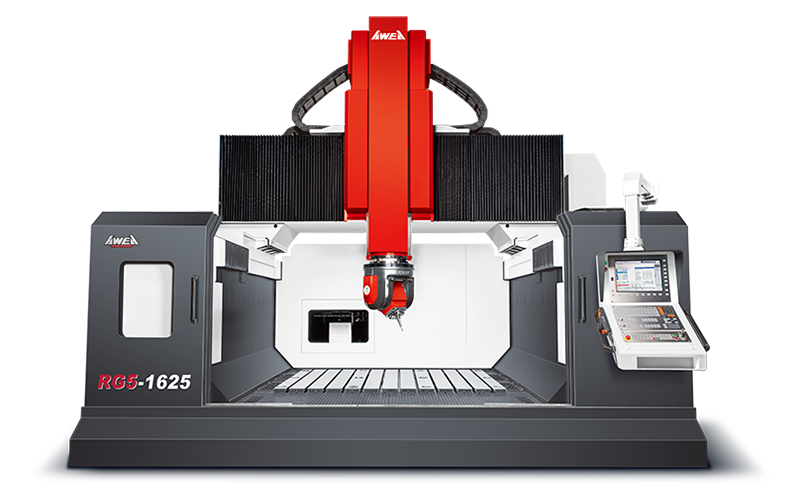 RG5-1625
Gantry type 5-Axis Machining Center
X-axis travel : 1,600 mm
Y-axis travel : 2,500 mm
Z-axis travel : 1,000 mm
B-axis rotary range : ± 100°
C-axis rotary range : ± 240°
Table size : 1,600 x 2,500 mm
Table load capacity : 2,500 kg/m2
Spindle taper : HSK-A63
Spindle speed : Built-in 24,000 rpm
X / Y / Z feed rate : 24 m/min.
Cutting feed rate : 20 m/min.
Standard Accessories
Spindle cooling system
Dual direct drive servo motors on Z-axis
X / Y / Z axes with optical linear scales
ATC with 24 tools magazine
Centralized automatic lubrication system
Spindle oil-air lubricant collecting device
Hydraulic system
Pneumatic system
( exclude external air supply and hose )
Coolant system with pump and tank
Full splash guard w/o roof
Twin screw type chip auger
Caterpillar type chip conveyor and bucket
Electric cabinet with air conditioner
Swing type control panel
Foot switch for tool release
Status signal lamp
Automatic power-off system
FCV-620H
High Speed 5-Axis Machining Center
X-axis travel : 635 mm
Y-axis travel : 535 mm
Z-axis travel : 460 mm
B–axis swiveling range : -50° ~ +110°
C–axis swiveling range : 360˚
Distance from spindle nose to table top :
350 ~ 810 mm
Table size : Ø 650 mm
Spindle taper : BBT40
Spindle speed : Direct drive 12,000 rpm
Spindle motor ( cont./ 30 min ) : 11 / 15 kW
X/Y/Z rapid feed rate : 36 m/min.
Tool magazine : 32 T
Standard Accessories
B / C axes rotary encoder
Spindle cooling system
Spindle air curtain
Coolant nozzle around spindle
Chips wash down
Centralized automatic lubricating system
Chain type 32 T tool magazine
Coolant equipment system
( Pump & tank )
Caterpillar type chip conveyor and bucket
Roof enclosed splash guard
AC cooler for electrical cabinet
Water gun and air gun for cleaning
LED work light + LED tube
Standard RS-232 transmission interface
+ network interface card ( NIC )
Tool box and anchor bolts
Operation manual + maintenance guide
Alarm light
AWEA MECHANTRONIC CO., LTD.
( HEADQUARTERS )
629, Suezhetou Section, Kwanpu Rd., Wenshan Li, Xinpu, Hsinchu 305, Taiwan
TEL : +886-3-588-5191 FAX : +886-3-588-5194
E-mail : sales@awea.com


AWEA MECHANTRONIC ( SUZHOU ) LTD.
( WUJIANG BRANCH )
215200 No.4888, East Lake Taihu Ave., Wujiang Economic
TEL : +86-512-8286-8200 FAX : +86-512-8286-8210
E-mail : sales.china@awea.com